NFL Sober Coach: Darren Sharper gets 9 years for drugging and raping women. Why would a high-profile NFL player that can get ANY women he might want, have to drug and rape women? Clearly a need to dominate and control has to the be the answer. He gave up millions of dollars and fame for a cold jail cell. We specialize in NFL drug and anger issues.
www.theaddictionscoach.com
1.800.706.0318
Sharper enters pleas in two cases
 Associated Press  ESPN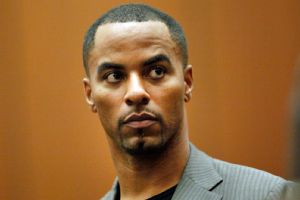 LOS ANGELES — Former NFL star Darren Sharper pleaded no contest Monday to drugging and raping two women in Los Angeles as part of a broader plea deal in four states that will send him to federal prison for nine years.
Sharper, 39, acknowledged the crimes in Los Angeles Superior Court after pleading guilty by video link to sexual assault in Arizona.
Sharper wearing a striped, light blue suit, said he was entering the plea because it was in his best interest. He had faced up to 33 years in prison if convicted of all counts against him in California.
The former all-pro safety who won a Super Bowl with the New Orleans Saints admitted he had drugged and raped two women he met at a West Hollywood bar in 2013 and 2014.
The women were not in court, but prosecutors said they had agreed to the plea deal.
In the Arizona case, Sharper admitted sexually assaulting one woman and trying to attack another in suburban Phoenix in 2013.
Sharper appeared in a Phoenix courtroom by video-conferencing from Los Angeles, where he has been jailed since February 2014.
Under the deal negotiated by his lawyers and state and federal prosecutors, Sharper will serve a nine-year federal prison term for similar crimes in Louisiana, Nevada, Arizona and California.
Similar hearings will follow in Las Vegas on Tuesday and in New Orleans in the next month. In each state, he's accused of drugging and sexually assaulting women when they were unconscious or otherwise unable to resist or consent.
He was sentenced immediately in the Arizona case, which is very unusual. Sentencing in California was scheduled July 15.
Sharper retired from the NFL in 2011 after a 14-year career with three teams and later worked as an analyst for the NFL network.
All the alleged sexual assaults happened after Sharper's retirement as a player.
Sharper admitted sexually assaulting one victim and trying to assault another in Arizona, though police said he drugged three women and sexually assaulted two of them at a Tempe apartment in November 2013.
Prosecutor Yigael Cohen on Monday cited a letter in which one of the victims says she suffered emotional harm as a result of the attack and that she didn't have the ability to resist.
In the California case, he pleaded no contest to four counts of furnishing zolpidem, which is a controlled substance.
Sharper's attorneys said last year that their client did not make the drinks authorities say he used to drug the women.
One of the women told police she had not had any alcohol that night until Sharper insisted she drink a shot. Another young woman said she had been drugged, then went to bed, locked her door and was not attacked.
The next day, one of the women confronted Sharper, who denied wrongdoing, according to police reports.
Sharper is expected to plead guilty to one felony charge of attempted sexual assault in Nevada, with the expectation that he will face up to eight years in prison, Clark County District Attorney Steve Wolfson told The Associated Press.