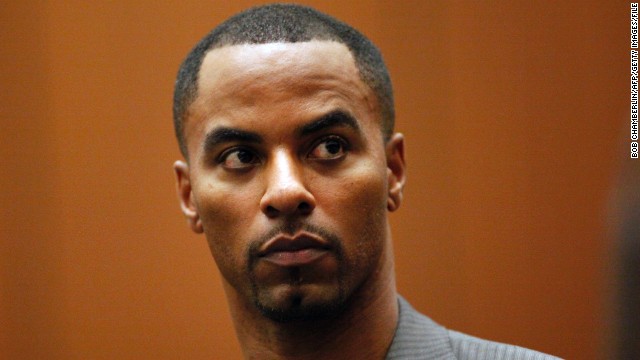 MORE CHARGES FOR SHARPER IN ARIZONA RESULTS IN "NO BOND"!
It seems to be getting worse and worse for former NFL standout Darren Sharper.  Its mind blowing that someone who had it all, a stellar NFL career, Pro Bowls, Super Bowls and a lead role in The NFL Network's morning show NFL AM, would drug and rape many women across the country.  He worked his whole life to build things to a high level only to let a sex addiction take it all from him.  What is fascinating here is that you can take "the addiction of choice" out of the equation and insert any other and get the same result…..work hard to gain in life, then throw it all away……A strong SEX addiction is just as chaotic and disruptive as any drug addiction.  The compulsion to have sex on a minute by minute or hour by hour basis controls the person exactly as if they needed cocaine or heroin.  Anyone that questions whether sex addiction is as serious as drug addiction clearly hasn't paid attention to this story.  Mr. Sharper, of course, is innocent until proven guilty.
Former NFL player Darren Sharper currently has so many legal problems that even former NFL player Aaron Hernandez would say, "That guy's got a lot of legal problems."  Sharper's problems became more complicated on Thursday.  Via Brent Schrotenboer of USA Today, a judge in Arizona determined on Thursday that Sharper should not be released on bail for the rape charges he's facing in that state.  Sharper also has been accused of rape in California and Louisiana, with potential charges also in Nevada and Florida.  In Arizona, Sharper's conduct resulted in three alleged victims, labeled as A, B, and C.
"The court finds proof evident and the presumption great that Victim B was the victim of a sexual assault committed by Mr. Sharper," Granville said. "The court will therefore affirm the no-bond finding with respect to [sexual assault]."  The evidence consists of DNA material matching Sharper.                              He currently remains in jail in California while the wheels of justice churn in three different jurisdictions.  He is expected to be tried initially in California.
Sharper played for the Packers, Vikings, and Saints.  He was a key member of the 2009 New Orleans team that won Super Bowl XLIV.  Most recently, Sharper worked as an analyst for NFL Media.  Initially suspended after the California case came to light, the league fired Sharper after an arrest warrant was issued in Louisiana.